A Leading Supplier Of Construction Equipment and Industrial Engine.
J & M Service specializes in construction equipment service and industrial engines. We offer a wide selection of products serving the construction industry. These products include shot-crete pumps, plaster pumps, sprayers, wall texture machines, trowels, water pumps, compaction equipment, mixers, asphalt blowers, masonry saws and blades, industrial hoses, tools & accessories, gasolene and diesel engines, etc. J & M Service is proud to provide and distribute the highest quality products from top brand name manufacturers such as Putzmeister, Allentown, Emglo, Graco, Kohler, Goodyear, Hatz, Honda, Kubota. In addition, we have designed and manufactured our own material pump products (Pro-Mini, Pro-Magnum).
At J & M Service, we have factory authorized parts and service for all products. Moreover, we have factory trained personnel and complete repair shop. We are dedicated to providing our customers with the best services.
Hours of Operation: 8:00 AM to 4:00 PM
( Monday - Friday )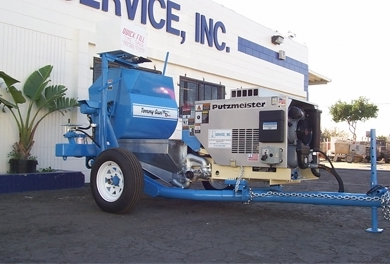 High Performance Equipment
(Putzmeister A302MXD Plaster Pump Shown)
♦ ♦ ♦ ♦ ♦
Satisfaction Guaranteed

♦ ♦ ♦ ♦ ♦